There are many reasons you might want to consider installing security cameras in your home. Here are just a few of the benefits:
Deter burglars and other criminals. If would-be criminals know that their activities are being monitored, they are less likely to target your home.
Help solve crimes. If a crime does occur on your property, security footage can be invaluable in helping to identify the perpetrator and assist in their arrest.
Provide peace of mind. Whether you're worried about crime in your neighborhood or you just want to know what's going on while you're away from home, security cameras can give you the reassurance you need.
Enhance your home's resale value. Homes with security systems are often seen as more valuable than those without, so if you ever decide to sell, having security cameras installed could give you a nice return on investment.
Save money on insurance. Many insurance companies offer discounts to homeowners who have security systems in place. So not only can security cameras help protect your home and belongings, they can also help you save money on your insurance premiums.
There are many other reasons why security cameras can be a wise investment for your home. But even if none of the above benefits appeal to you, the peace of mind that comes from knowing your home is being monitored can alone be worth the cost.
Recommended: Wyze Cam Home Security Camera
The Wyze Cam Home Security Camera is an affordable home security camera designed to work with Alexa, the Wyze app, and Wyze web. You can save money by getting a Wyze Cam Starter Pack, which includes Wyze Cam and Wyze Cam Pan.
You can easily connect the Wyze Cam Home Security Cameras to your home wi-fi system.
Here's how to get started:
Download the Wyze app and create an account.
Connect Wyze Cam to your Wi-Fi network.
Pair Wyze Cam with your Echo Show or Wyze Cam Pan.
To view your Wyze Cam on your Echo Show or Wyze Cam Pan, just say "Alexa, show me the living room."
The Wyze Cam Home Security Camera is a home security camera that offers 1080p full HD video, two-way audio, night vision, motion and sound detection, time lapse, and free cloud storage. The Wyze Cam Home Security Camera is compatible with Amazon Alexa and Google Assistant and can be controlled using voice commands. Wyze Cam also offers a free 14-day trial of its Wyze Cam Plus service, which includes person detection, motion alerts, and extended cloud storage.
Features of the Wyze Cam Home Security Camera:
You can record night time video in full, vivid color in environments up to 25x darker than traditional cameras.
The Wyze Cam v3 is a wired water-resistant, video camera that you can confidently install outside in the rain or inside in the kids' room.
The Wyze Cam v3 records video when motion & sound are detected and sends an alert to your phone. Motion Detection Zones let you adjust the sensitivity of detection.
Greet and speak with visitors with loud two-way audio. The Wyze Cam v3 also has a siren button you can press to scare off unwanted guests.
Continuous video recording with a 32GB MicroSD card which is sold separately. Just insert the MicroSD into the base of the Wyze Cam and you're all set.
Thank you for stopping by and taking the time to read our article on the Wyze Cam Home Security Camera. We hope you found it informative and helpful.
If you would like to learn more about the Wyze Cam – Home Security Camera, please follow the link below.
CLICK HERE: Wyze Cam Home Security Camera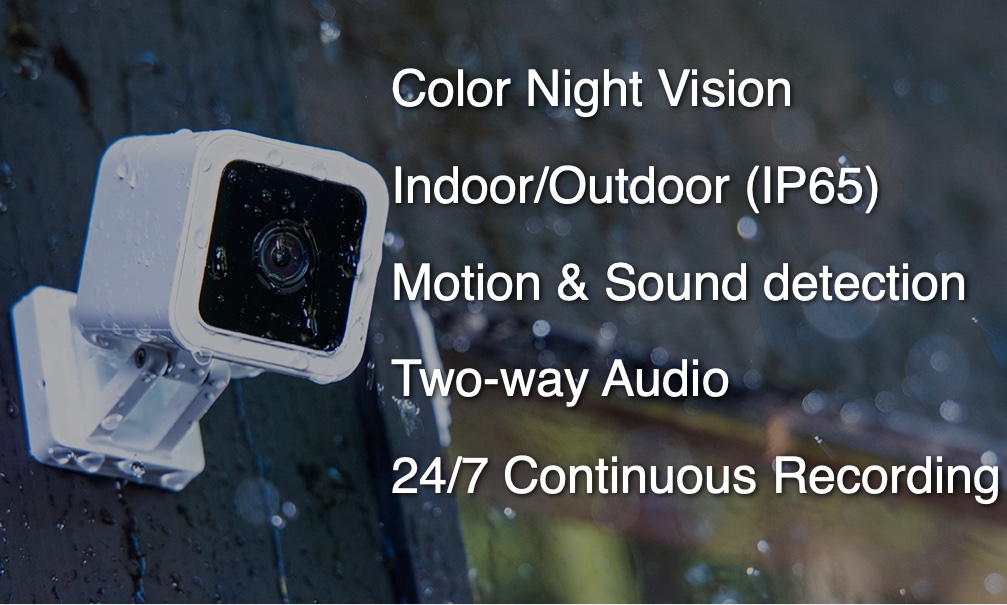 Note: Products with electrical plugs are designed for use in the US. Outlets and voltage differ internationally and this product may require an adapter or converter for use in your destination. Please check compatibility before purchasing.